One Breath
​​The final section of the "Gullah Me" Collection is titled: "One Breath." It is a pictorial story telling of my family and my relationship to them as a daughter, artist, and healer. The title "One Breath", comes from my Mother's last words to me when I left home to attend Bryn Mawr College. I was afraid to get on the plane, not only because it was my first flight, but because of my history of severe asthma. Many times on the brink of death, my Mother would put her mouth to mine and breathe for me until my tired chest and lungs started moving again. The memories of slipping away from this world were fresh and frightening, and I wondered what would happen if I ever had to struggle for breath like that again. Perhaps my Mother sensed my fear. After I said my final goodbyes, Mom looked at me with great compassions and said: "You know, Rikki, I have breathed for you so many times, that we are one breath. So as long as I am, you are, and as long as you are, I am." Her words gave me courage then. They give me courage now to look into the mysteries of faith, family, health, sickness, life, death, body, soul, and spirit, and tell our story. The collection is growing. More works will be added in 2017, so check back often to witness how the story unfolds.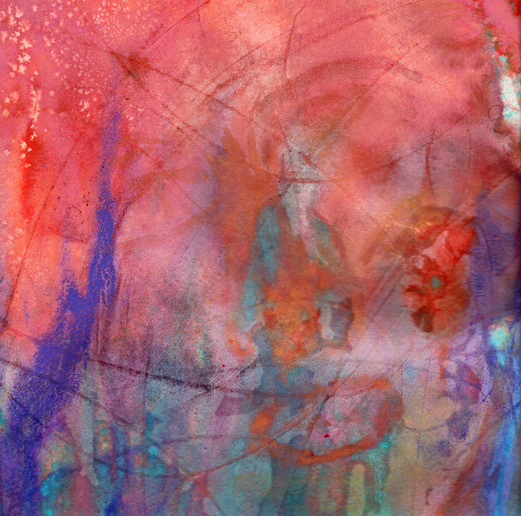 The Slow March of the Egungun

​In Yoruba & Gullah, "Egungun" refers to your ancestors, who are often represented as masked figures. This work shows the "ancestral fires" from which the Egungun emerge, catch up to, & embrace the living who eventually join them in the sacred procession. This painting captures my moment of insight.

Materials: Mixed media. My acrylic on paper painting was scanned into my computer where I used Photoshop brushes to individually "unmask" the presence of the Egungun (ancestors) embedded in the original painting. Printed on canvas, glosssy & matte acid free photo papers. (2016)



---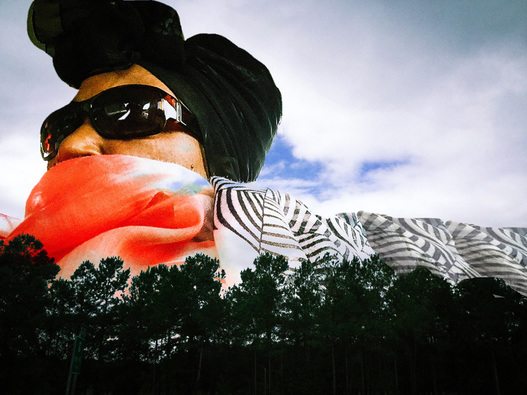 Gullah Me

This self portrait titled "Gullah Me" shows the hurry and blur of reality as my trusted childhood companions and I evacuated our family homesteads because of the dangers of hurricane Matthew. In almost 60 years, this was the first time we had to defy the dark, gathering storm clouds, & sail to safety on the wings of faith.

Materials: Mixed media, digital photo collage & digital painting. Image of myself & the tress were individually isolated fr other photos, & merged to create this composition. Color corrected in PhotoShop. Highlights w PS calligraphic & other brushes. Printed on canvas, matte & glossy (acid free), photo papers. (2015)
---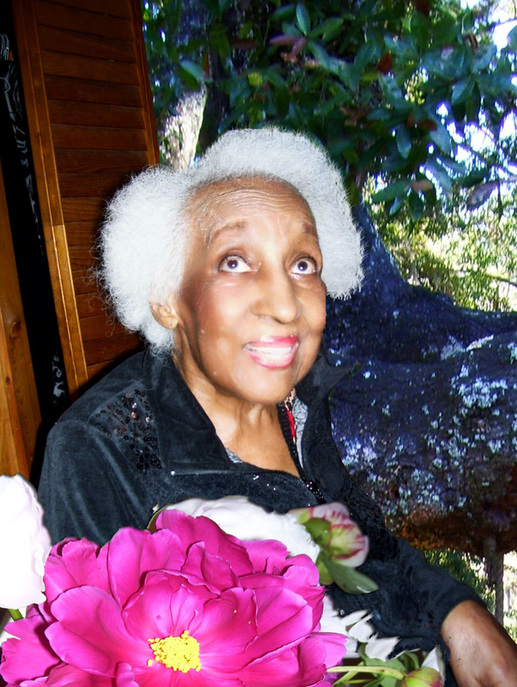 ​ Portrait of My Mother ("Last Smile")

My mother always smiled when I asked her to. "Portrait of My Mother: Last Smile" is the last time I captured her smile before her death from breast cancer (12/14/2015). I added objects from important moments in her life: Flowers given to her @ time of my Dad's death (2013), & the tree we swung from as children complete the pic.

Materials: (Mixed media) Digital photo collage and digital painting. The photo of my mother was redone with elements of pencil sketching. The tree & flowers were isolated fr. their original photos to complete composition & create a sense of "space outside of space," that resonates with the realities of transitioning. (2016) Printed on glossy and matter acid free photo papers.
---
---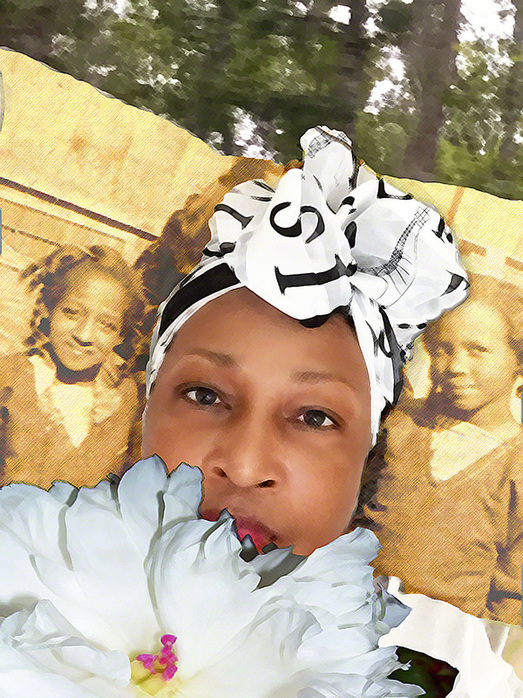 Self Portrait: Ancestral Pillows, Pillars

"Ancestral Pillows, Pillars" represents the central role that my female ancestors play in my life, and the merging of the past into the present via memory. My Mom is the girl on my R (literally the "angel on my shoulder"), and my aunt (the rebel) is on my L. Not seen is my great GM: My head is in her lap & covers her.

Materials: (Mixed media), digital photo collage and digital painting with pencil cross hatching. Vintage photo of my Mother & aunt as children (1921), was restored & imported as my pillow case. Flower from a photo (2013) & local trees (2016) were isolated & added to complete the composition. Printed on canvas & acid free paper. (2016)
---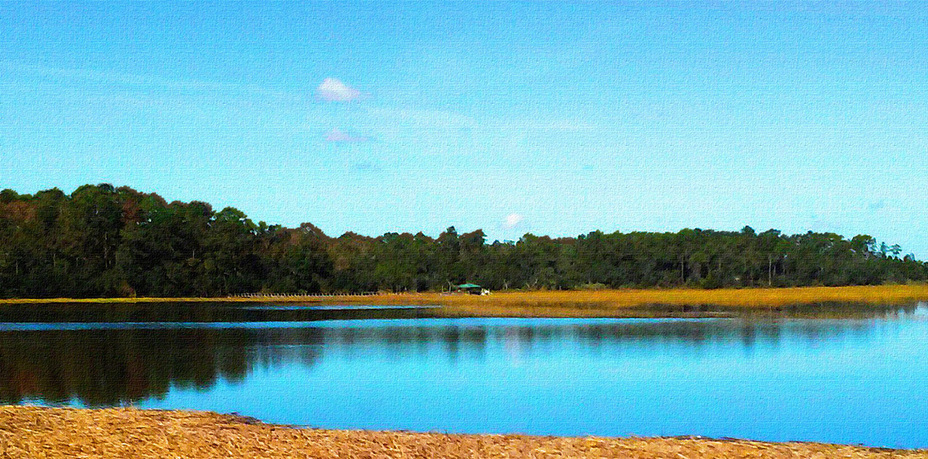 Landscape ("I Cross This River")

"I Cross This River" depicts the calm of the river following the high tides of a hurricane, and the subtle onset of autumn reflected in the muted color changes of the trees and their reflection in the water. The theme of time passage is likewise reflected in the river & seasonal changes.

Mixed media: Digital photograph & digital water color painting. The digital photo of this Low Country River was color corrected and taken through a 4 step process to produce a digital water color painting. Subtle highlights were added w Photoshop calligraphic brushes. Printed on canvas. (2016)
---
---